Christmas is almost here!
Yayy!!
I love this time of the year, the lights, the trees, and let's not forget about the presents! However, and most important of all, this is a time to remember the birth of Jesus, our savior!
Today I am bringing you a really cool design – Coloring Christmas Bookmarks Free Printable – I hand drew it myself and then digitized it! My husband loved them and he was waiting for me to take photos so he could pick his favorite 😛
Are you ready?
Let's get started!
Coloring Christmas Bookmarks Free Printable
I am so happy you are getting these bookmarks. I had so much fun designing them, and I really hope you have fun coloring them and using them for your books, or why not, give them as a present to your loved ones.
Materials
The materials you are going to need are very easy and simple.
White card stock
Christmas colors card stock (Optional)
Coloring Christmas Bookmarks Free Printable (Download below)
Scissors
Glue (Optional)
Markers for Adults! Unless your child is coloring these bookmarks, I encourage you to invest in some markers FOR YOU! I recently bought these Ohuhu Markers. And it just made my day, the are so soft and they paint so smoothly that you won't want to stop 🙂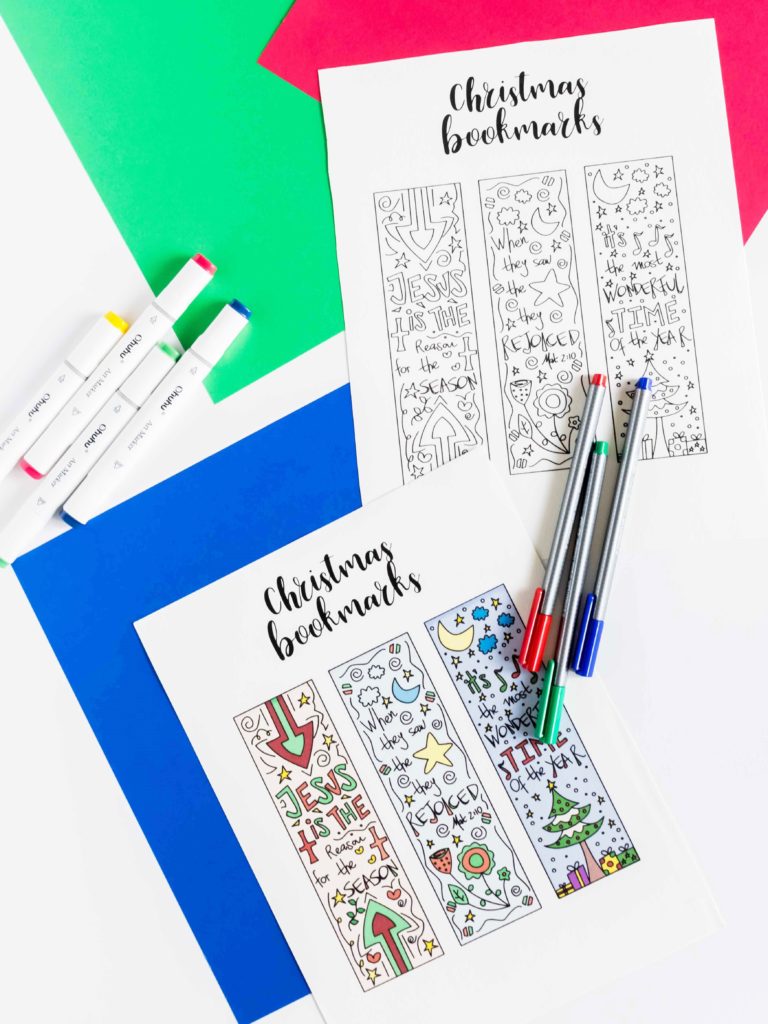 This is What You Get
I know they are coloring bookmarks! However, this girl thought about you and your time. And, let's face it, you might not want or have the time to color them. Don't worry I got you, I also included a color version so you can just print the final product. But, let me tell you that coloring them was so much fun for me!
Little Tip to add life to your Christmas Bookmarks!
If you want to add more color to your bookmarks, cut a piece a colored card stock paper and glue it to the bookmark. I love how beautiful it looks!… And just so you know, the bookmark on the left was colored with the Ohuhu Markers. For me it looks just like a printer, I am still amazed of how awesome they color! The one on right and yellow background, was printed!
Get Your Free Printables!
So…
What did you guys think? Did you have fun coloring these cute bookmarks?
Please let me know in the comments down below, I am so looking forward to hearing from you 🙂
You May Also Like…
I love creativity and designing really cool stuff for you and your little ones. Check out these other awesome projects!